Federated States of Micronesia
Located in the Western-central Pacific, the Federated States of Micronesia [FSM] is a sovereign nation consisting of four states: Kosrae, Pohnpei, Truk and Yap.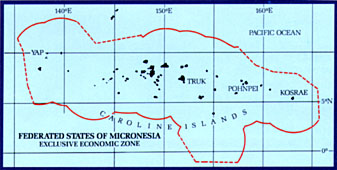 The 200-mile Exclusive Economic Zone (EEZ) of the FSM covers a sea area of more than 3 million square kilometers (1.3 million square miles). The capital of the Federated States of Micronesia is Palikir, situated on the island of Pohnpei.

National Fisheries Corporation
The National Fisheries Corporation (NFC) is a public corporation established by the FSM Government in 1984. The aim of the corporation is to develop and promote a profitable and long-term commercial fishery within the FSM. In addition to the National Fisheries Corporation's own industry development programs the corporation works closely with the individual states in joint fishery projects.

Marine Resources/Commercial Fishing
The two most important fish resources in the FSM are tuna and bottom fish. Annually in excess of 150,000 tonnes of tuna is harvested within the FSM.
The tuna fishery can be divided into two major groups:
purse seine fishery- which targets its operations at surface schooling fish such as Skipjack and small Yellowfin tuna.
long-line fishery - which targets its operations at deep-water species such as Yellowfin and Big-eye tuna.
A commercial fishery for bottom fish is being developed within the FSM and the target species for this group are:
Deep-water Snapper (Fam. Lutjanidae)
Deep-water Grouper (Fam. Serranidae)
The locally operated commercial fishery within the FSM includes more than 50 smaller vessels utilizing long-line, pole-and-line and bottom fishing methods. The vessels range in size from 1.5 - 30 tonnes and are all fitted with modern equipment.
Fishing is traditionally a way of life in the FSM and fishermen now are being well trained in modern methods of fishing, fish handling and quality control procedures.

Commercial Fish Species in the Federated States of Micronesia
| Scientific Name | Marketing Name | Japanese Name |
| --- | --- | --- |
| Thunnus albacares | Yellowfin Tuna | Kihada |
| Thunnus obesus | Big-eye Tuna | Mebachi |
| Katsuwonus pelamis | Skipjack Tuna | Katsuo |
| Caranx lugubris | Black Jack | Kappore |
| Seriola rivoliana | Amberjack | Hirenaga-kanpachi |
| Lutjanus bohar | Red Snapper | Barafuedai |
| Plectropoma laevis | Rock Cod | Sujiara |
| Etelis coruscans | Onaga | Hamadai |
| Etelis carbunculus | Ehu | Hachijyo-akamatsu |
| Pristipomoides flavipinnis | Opakapaka | Kimme fuedai |
| Aphareus rutilans | Lehi | Ohguchi-ishichibiki |
| Aprion virescens | Uku | Aochibiki |
| Coryphaena hippurus | Mahi Mahi | Shiira |
| Acanthocybium solandri | Wahoo (Ono) | Kamasusawara (Okikamasu) |

Marketing of Marine Products
FSM offers a variety of high quality frozen and fresh tuna and bottom fish products which can be shipped out of the FSM by air or sea on a regular basis.
Modern fish processing, packaging facilities and handling procedures are being developed and implemented to meet international standards for export products from the FSM.

Opportunities For Foreign Investment and Co-Operation
The FSM government issues licenses to foreign vessels for fishing within the rich 200 mile EEZ. Presently over 100 purse seiners and 300 long-line vessels are operating within the area.
One of the national goals in the FSM is to become largely involved in the development and management of its resources. To achieve this goal the National Fisheries Corporation is seeking joint ventures and closer co-operation with other countries and their fishing industries.
The National Fisheries Corporation is also the conduit through which transshipment by foreign fishing vessels maybe conducted in the FSM, offering reasonable and uniform arrangements from FSM States.
For further information contact the National Fisheries Corporation.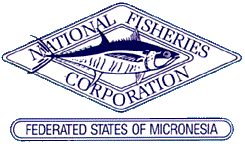 National Fisheries Corporation
P.O. Box R, Kolonia, Pohnpei, Eastern Caroline Is. 96941, Federated States of Micronesia
Telephone: (691) 320 2529; (691) 320 5486
Telex: (729) 6807 FSMGOV FM; Facsimile: (691) 320 2239
Funded by the Market Advisory Service of the Department of Foreign Affairs and Trade under the Australian Aid Program.
With assistance from the South Pacific Trade Commission
Level 9, 225 Clarence Street, Sydney, NSW 2000
Telephone (02) 290 2833; Facsimile (02) 262 2320

Note: Printed versions of this information are available from the National Fisheries Corporation, in both English and Japanese.